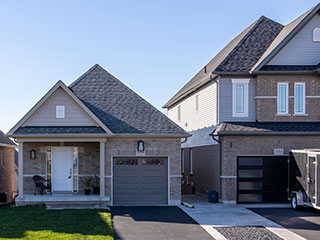 Selecting the right garage door is always regarded as essential, and so should the opener. It is the main mechanism which raises and lowers the door, and it will be subjected to use over a thousand times a year on average. While you may have some idea of the kind of opener you would like, choosing a brand will both limit and extend your opportunities, and should be one of your first concerns.
Allister Garage Door Openers
The Allister (or Allstar) brand encompasses several different lines of openers, including the Challenger, MVP, and Pulsar lines. Within these lines, many parts are interchangeable, allowing for a great deal of freedom when setting up and servicing your garage door. While no longer manufactured, Allister often used Linear receivers, and a wide range of parts are still available under their previous name. This allows for less confusion when searching for specific parts, and is an advantage to owners of the system.
Genie Garage Door Openers
C.G. Johnson, inventor of the first electric garage door opener, founded Genie. The manufacturer has since become close to synonymous with screw drive openers, and with good reason—they invented them. While most known for screw drive, Genie also manufactures chain drive and belt drive, and has a line of DC powered models. What sets the DC powered models apart is, that they are installed professionally.
Chamberlain Garage Door Openers
The world's largest manufacturer Chamberlain offers a wide range of models along with private label manufactured openers for other brands such as Craftsman and Raynor. Chamberlain garage door openers are available as belt drive, screw drive, jackshaft (wall mounted), and chain drive, and will as a result suit most garage doors. Some openers from this manufacturer contain the Whisper Drive (WD) feature, which means that they operate very quietly. Chamberlain is also responsible for LiftMaster openers. These openers are very popular due to the fact that they are professionally installed, and thus do not require any DIY.
Garage door opener brands each have their own way of doing things. Many of them produce similar models, and a prospective buyer may have to dig a bit to find the relevant differences. Having a starting knowledge of what a given manufacturer does and does not produce is advantageous when planning to buy an opener. There's no need to investigate a manufacturer who does not do belt drive if that's what you are after. With that in mind, anyone will find their perfect opener.