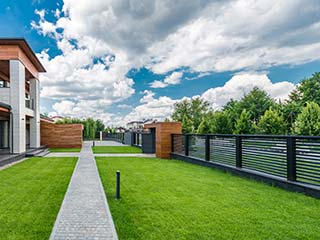 Troubleshooting Safety Sensors
When you automate your gate with an opener, you must have safety sensors in place. They signal the opener to reverse the unit in case there is a person, pet or object in its path while it is closing. When the sensors don't work properly, you may be unable to close the gate like you usually do, and when this happens, you can rely on us for quick repair that will restore the safety of the system. Issues with the wiring are not uncommon as well. By replacing it, we can restore the operation of the devices. If there is great damage to the sensors or they have failed completely, we'll install new ones in their place. With accurate installation, they will work reliably at all times.
Effective Hinge Welding Repair
When a swing gate malfunctions, the hinges are often to blame. Our detailed inspection will reveal the underlying cause of the problem. If the welding has been damaged, we'll restore it to make the hinges function normally again. If the components themselves are bent, count on us to straighten them. With proper hinge greasing, you will enjoy smooth and quiet gate performance. In case our inspection shows that the components are worn, we'll install new ones instead. In order to provide top-quality gate repair services, we use strong and durable spare parts. You can rest assured that your new heavy-duty hinges will work reliably for a long time to come.
Fixing Swing and Sliding Steel Gates
Steel is the material of choice for many people because it is highly resistant to the damaging effects of the elements. Still, if you notice any kind of damage to the panels or hardware, you should deal with the problem right away. Count on us to fix the affected component professionally. We straighten bent tracks, adjust and secure sunken posts and replace worn rollers and broken wheels. If you have a sliding gate and the opener's chain breaks, rely on us to replace it fast.
We, at Garage Door Repair New Jersey, are always available to fix your gate. Call us to get information, advice and a detailed quote.
But wait, there's more! We also offer:

Swing Gate Adjustment

Multicode Remote

Phone Entry Systems

Solid Sliding Gates