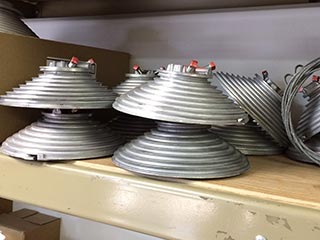 Solving Problems with the Cables
Is your garage door hanging on one side and appears to be jammed? Then you most probably have a snapped cable. Our solution involves replacing it with a new one of the exact same size. If the door has gone off track, we'll adjust it accurately. When the track has been bent because of the accident, count on us to straighten it. Our garage door repair services are comprehensive. Generally, if a cable shows any signs of wearing and damage, timely replacement is required. The list includes scraping sounds, fraying and minor cuts.
Fixing a Malfunctioning Opener
If the motor is working and the spring is intact, but the door isn't opening, you most certainly have a broken trolley. Count on us to replace it quickly to solve the problem. What if the motor is silent? We'll repair it or replace it, depending on the underlying cause of the problem. In very rare cases the circuit board could have failed. With quick replacement, we'll eliminate the issue completely. We fix openers of all types and brands, and their accessories – such as remote controls.
Repairing and Replacing Panels
If your steel door is chipped, bent or has scratches or rusty panels, count on us to fix it professionally to make your unit strong and fabulous looking once again. We also repair decaying wood panels with precision. Our solution involves removing the decayed spots, filling them with the most suitable material and sealing them. When panels cannot be saved because of extensive damage, we'll replace them with matching ones.
Contact Garage Door Repair New Jersey for more information today!