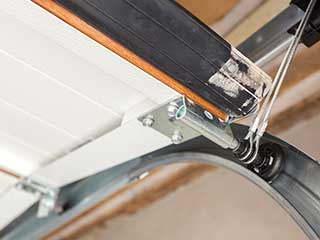 Selecting the proper garage door parts is always subject to the weight of the door but also your own priorities. What are your requirements? What are your expectations? Although we don't often bother with the little wheels, which guide the door in the tracks, they are extremely important components and must be chosen carefully. There are no massive distinctions among them but still some characteristics will either make your life easier, or not.
There are actually two kinds of garage door rollers. The most common ones are made of steel and the other ones made of nylon. They all have a stem and must be measured accurately in order to withstand the weight of the door. So, there are not really good and bad rollers. They are all great but what you should be interested in is to ensure that they will last longer and have the power to carry your own overhead door.
Distinctions Among Rollers
Surely, one single roller cannot hold the weight of the whole door. That's the reason why there are several rollers in each side of the panel depending on its size and weight and also the reason why rollers are replaced one at a time. If one removes all rollers from the door at the same time, the door will simply fall. Choosing the right material for your own sectional doors requires taking into consideration the special conditions at home. Nylon rollers are ideal for quiet operation but they are more sensitive and they won't last as long as steel rollers, which are much stronger.
Steel rollers will last for over two decades but still their selection should be determined by your needs. Zinc coated rollers and stems are perfect for high moisture environments since they are resistant against rust. If there is no need for such special orders, you could stick to the regular steel ones. Remember that when the rollers have several ball bearings, they are more stable and so they last longer and also make less noise.
Their size is definitely important and so the current ones must be measured properly. Some manufacturers stick a label with the dimensions of the roller but if yours don't have such a sticker, you should measure the diameter of the roller and the length of the stem. The best rollers are always the most suitable ones for different garage doors.